3 Lory Meagher Champion 15 Awards for Leitrim Hurlers
Our congratulations to Leitrim Hurlers Conor Byrne, Clement Cunniffe and Liam Moreton who were honoured with selection on the Lory Meagher Champion 15 selection for 2017. The PWC All-Star presentations took place in the Convention Centre, Dublin earlier this evening. This is excellent recognition for the lads and their team who qualified for the Lory Meagher Cup Final for the first time earlier in the season. Conor and Liam are pictured below with Team Manager Martin Cunniffe who picked up son Clement's award on his behalf.
LORY MEAGHER CHAMPION 15: Darren Sheridan (Cavan), Matthew Hynes (Cavan), Sean Corrigan (Fermanagh), Shea Curran (Fermanagh), Kevin Banks (Sligo), Cormac Behan (Sligo), Ronan Crowley (Lancashire), Nathan Unwin (Lancashire), Conor Byrne (Leitrim), Liam Moreton (Leitrim), Clement Cunniffe (Leitrim), John Collins (Warwickshire), Dean Bruen (Warwickshire), Paul Uniacke (Warwickshire), Liam Watson (Warwickshire).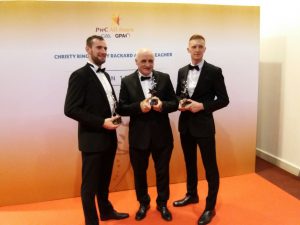 https://www.leitrimgaa.ie/wp-content/uploads/2017/11/WhatsApp-Image-2017-11-03-at-22.03.10.jpeg
1200
1600
Leitrim GAA PRO
https://www.leitrimgaa.ie/wp-content/uploads/2017/07/cropped-Leitrim_Crest_3d_Trans_552x552-180x180.png
Leitrim GAA PRO
2017-11-03 22:21:52
2017-11-03 22:25:00
3 Lory Meagher Champion 15 Awards for Leitrim Hurlers