Thank You Martin Cunniffe
Leitrim GAA wishes to express its great appreciation for the efforts of Senior Hurling Team Manager Martin Cunniffe who announced his resignation from the position earlier today. Martin had been Senior Hurling Team manager for the past nine seasons but his involvement in the promotion of Leitrim Hurling goes way and beyond that significant contribution. He is the current Leitrim Hurling Chairman having previously held the roles of Secretary and Treasurer of the same committee over a combined period of time that has spanned decades, not years.
After many years of struggle to produce a competitive team, Leitrim always kept the hurling show on the road but over recent years under Martin's management and his able allies the Leitrim Hurlers began to make inroads into competitive fare and in 2017 the hurlers reached Croke Park for the Lory Meagher Cup Final but had to settle for the runners up position against Warwickshire. In 2018 they were decidedly unlucky to lose the League Final versus Lancashire as a late rally rescued a draw for Lancashire in Ballyconnell. Our opponents went on to claim the title after extra-time.
2019 proved to be Leitrim Hurling's greatest year as the team made it to Croke Park again in June for the Lory Meagher Cup Final and this time, despite the contest with Lancashire going to extra time, it was the Leitrim lads who had the upper hand and claimed a famous victory to gain national acclaim. It definitely was a proud day for Leitrim and there was no prouder man than Team manager Martin Cunniffe to have led his charges to the Promised Land of a Senior All-Ireland Title in Croke Park, a feat that is a first for a Leitrim Men's Team in the famous stadium.
Leitrim GAA remains eternally grateful for the wonderful contributions of Martin and the entire Cunniffe Family to Leitrim's Senior Hurlers over many seasons and particularly in 2019. Thank you, Martin we look forward to your continued involvement towards the promotion of the game!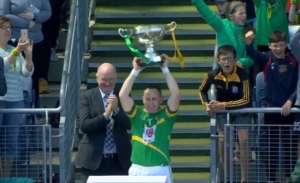 https://www.leitrimgaa.ie/wp-content/uploads/2019/06/D9q1ApFX4AAJ3mO.jpg
428
702
Leitrim GAA PRO
https://www.leitrimgaa.ie/wp-content/uploads/2017/07/cropped-Leitrim_Crest_3d_Trans_552x552-180x180.png
Leitrim GAA PRO
2019-11-05 00:13:16
2019-11-05 00:16:47
Thank You Martin Cunniffe