2019 Lory Meagher Cup Medals and 2019 Leitrim GAA Awards Presentation
It was a magnificent occasion last night at the presentation of the 2019 Leitrim GAA Awards in the Bush Hotel, Ck-on-Shannon. The individual Awards for the 2019 Season were presented to very worthy recipients and the Jim Lynch Hall of Fame was presented to Drumreilly's Sean Maxwell and his acceptance speech received a rapturous standing ovation from all present. The highlight of the night was the presentation of the Lory Meagher Cup Medal to Leitrim's history-making hurling team. The Special Guest on the night, Micheál Ó Muirceartaigh, was on hand to present the medals to the players and it was a privilege to have had such a legendary figure in our Association available and willing to join us in the night. We thank Micheál and his wife Helena for taking the time out to be with us. His words of wisdom and tales from the past regaled everybody present and you could literally hear a pin drop as the great man spoke. Our congratulations to all on what was memorable night for Leitrim GAA.
The various citations for the award winners are listed below:
Shane Moran, Ballinamore Sean O Heslin's – County Senior Player of the Year
Shane Moran has been one of Leitrim's standout performers since he first made the Leitrim Senior Team in the Connacht SFC v London in 2012. He has developed his game excellently in the intervening years, having become one of the mainstays of the team. In 2019, which was a year of deliverance for the Leitrim Senior Footballers, Shane was to the fore in driving his team to promotion from Allianz League Division 4 and a coveted appearance in a National Final in Croke Park. Last year he also played a pivotal role for his club as they reached a SFC final for the first time in 21 years. We look forward to many more exciting performances from Shane Moran into the future.
Conor Dolan, Glencar/Manorhamilton – Club Senior Player of Year
Glencar/Manorhamilton has been the standout club team in Leitrim in the last decade of more having reached 9 SFC Finals over a 12 year spell. Winning the Leitrim SFC last year may have bookended the careers of many of their stars of that era but there is a lot more to come from Conor Dolan. A forward of deadly accuracy he was to the fore in a potent inside line and delivered a man of the match performance in the County SFC Final in addition to kicking the winning score in pressure circumstances. Conor Dolan was GM's standout performer all year and a worthy winner of the Club Senior Player of the Year.
David Bruen, Leitrim Gaels – Club Intermediate Player of Year
What a year it has been for Leitrim Gaels, winning the Leitrim Intermediate Football Championship for the first time and gaining their place in the Leitrim SFC for 2020. While their rise has been steady and progressive, they have developed a number of fine young players, representing Leitrim at all levels, which will stand to them into the future. The standout performer in their run to glory last season was David Bruen. A player with a terrific engine and a willingness to get on ball in that most difficult of places to forage, the middle third, David drove his team forward on all occasions and was often the decisive link between defence and attack. A most worthy winner of this award in Leitrim Gaels' historic year is David Bruen.
Alan Doonan, Fenagh St Caillin's – Club Junior Player of Year
Fenagh St Caillin's has been to the forefront of underage development over the past decade or more and this work has begun to reap a rich harvest at adult level. The retained their hard earned SFC status and went one better than 2018 by capturing the Junior B Football Championship crown in 2019 with a mixture of youth and experience. Not alone is Alan a chief statistician with the Leitrim Senior Football team, but also Alan was one of the standout performers in that championship victory on final day as he contributed handsomely to his team's success and we congratulate him on his award here tonight as Leitrim Junior Footballer of the Year.
Seamus Mulhern, St Mary's Kiltoghert – Senior Referee of Year
Seamus Mulhern from the St Mary's-Kiltoghert Club is the Senior Referee of the Year. Seamus has been refereeing in the county since 2006 and in 2008 was awarded the Coiste na nOg Referee of the Year award. He has refereed finals at all levels over the intervening years and has taken charge of various inter county matches at Connacht MFL level. A former Leitrim Senior Footballers from 1975 to 1991 Seamus was a member of the famous Leitrim team of 1977 which won the Connacht U21 Championship. Seamus was afforded his highest refereeing accolade in 2015 when he was chosen to take charge of the 2015 Leitrim SFC drawn encounter between Mohill and Glencar/Manorhamilton and has been chosen for award for a second time for his excellence and dedication to the cause in what is widely acknowledged as one of the most difficult roles in our association.
Páirc Achadh an Mheasa – Club Grounds of Year
The Club grounds of the year award goes to Aughavas GAA Club. We care delighted that the overall standard of club ground have shown great improvements over the past decade or more. Always to the forefront in the presentation and maintenance of their grounds, the Aughavas GAA Club Facility has recently in 2018 celebrated 40 years in existence. It certainly has not stood still over that period with many fine additions and a park that is immaculately kept, thanks in no small way to a dedicated Park Committee that is Gerry Gallogly. We compliment the club on its excellence in providing facilities that are exemplary and a great credit to the club.
Shane Mallon, Carrick Hurling – Young Hurler of Year
Shane Mallon, although from Bornacoola, plays his hurling with Carrick Hurling Club. He had a tremendous season with the Celtic Challenge Leitrim Under 17 Team and gave many fine performances on their way to their final in Tullamore with neighbours Longford. On the day he gave a virtuoso performance as these lads for the future brought home an All-Ireland Title in this finest of competitions for less strong counties. Shane is also a fine footballer, having represented Leitrim at Under 17 level this year and is also known to dabble in a little bit of rugby!! His Wexford bloodline through his late grandmother Mary no doubt has had part to play in his tremendous hurling skill. Your Young Hurler of the Year is Shane Mallon.
James Glancy, Carrick Hurling– Club Hurler of Year
James Glancy is a member of the Leitrim Senior Hurling team and Carrick Hurling. James has, for a very long period of time, proven to be a pivotal player for Leitrim and in 2019 scored the memorable goal that rescued Leitrim in the dying moments of the Lory Meagher Cup Final. James has won many accolades throughout his hurling career, the highlights no doubt arriving in 2019 with Lory Meagher Cup triumph and being named in the All-Star Champion 15. At club level he has won numerous Senior Club Hurling Championships with his club Carrick Hurling and in 2018 a Connacht Club title. After a long season he drove his team forward from the half back line as they reclaimed the County Senior Crown, despite an almighty effort from Cluainín Iomáint to dethrone them. Your Club Senior Player of the Year is James Glancy.
Enda Moreton, Carrick Hurling – Senior County Hurler of the Year
Enda Moreton has had a momentous year. A leader with his football team Leitrim Gaels as they reached the Holy Grail of Senior Football by taking the IFC crown, Enda gave of his all to the county hurlers in 2019 and was rewarded with a memorable day in Croke Park last June as he helped his teammates immeasurably to take home the Lory Meagher Cup in dramatic fashion. His skill and work rate did not go unnoticed as in October he was also chosen as member of the 2019 All Star Champion 15, a tremendous honour for him personally. Hugely instrumental in Carrick Hurling success later in the season, Enda has capped it all by being chosen as Leitrim's Senior County Hurler in this historic year.
Gavin Reynolds, St Mary's Kiltoghert – Under 16 Player of Year
From a young age Gavin has been the driving force within his age group for St Mary's. He is very much our Brian Fenton in the middle of the field. He plays with great heart, determination and skill, always contributing on the scoreboard from play and frees. Gavin was our U15 George O'Toole player of the year in 2018 and deservedly won man of the match in the replay against MacDiarmada Gaels last year to ensure that the U17 County title was going nowhere but St. Mary's. St Mary's are delighted that Gavin has carried his commitment of football to the next level with Leitrim and believe he has a very bright future for both club and county. Congratulations to Gavin, his family and friends.
Barry McWeeney, Kiltubrid – Under 17 Player of Year
Barry McWeeney, from Kiltubrid, played his underage football in 2019 with the newly formed Mac Diarmada Gaels and was pivotal player for his team as they reached the County Minor Final with St Mary's Kiltoghert. At County Under 17 level, in what proved a difficult Championship season, Barry was easily the standout performer. His scoring exploits, both from play and from placed balls have marked him out as definite player for the future. Dedicated to a fault, Barry has worked tremendously hard at his game and we look forward to his future development with interest. A multi talented sportsperson Barry has also starred for Drumshanbo VS Volleyball team. Your County Minor Player of the Year is Barry McWeeney.
Mark McCloskey, Bornacoola – Coiste na nÓg Referee of Year
Mark McCloskey has completed his second season refereeing in Leitrim and has made great strides over that short period. A hugely talented underage star and former player with Bornacoola Seniors for the best part of 20 seasons, Mark, whose playing career was cut short by injury was leading scorer for his club over many seasons and was a pivotal player in Bornacoola's run to two SFC Finals in 2005 and 2008. A former county footballer at Minor Level in the late 1990s, Mark has coached at both Underage and Adult Level with his club. He has displayed a sensible approach to refereeing matches at all levels. In 2019 was the man in the middle at the Leitrim MFC Final given a sensible non intrusive refereeing display. We look forward to his progress as knight of the whistle over the coming years.
Benoit McKiernan, Annaduff Handball Club- Juvenile Handballer of the Year
Young Annaduff Club Handballer Benoît McKiernan had a great year travelling the country in 2019. He played in the 40×20 Nationals in Monaghan in May, reached the doubles plate final at the Wallball Nationals in Mayo in July, won the Doubles Plate Final in the Softball Nationals in Wexford in July and won the Connacht 60×30 B singles final in Castlebar in September. He has been playing handball since he was eight or nine under the expert guidance of Peter Heaney, Kevin Doonan and Martin Logan whom he'd like to thank for all their coaching. He's also an avid hurler with Carrick Hurling and footballer with St. Mary's Kiltoghert and is thrilled that club mates Gavin Reynolds, Seamus Mulhern and James Glancy and also cousin Alan Doonan are all award winners. He's looking forward to a year jam-packed with handball….if the homework can be got out of the way!!
Ed Lee, Fenagh handball Club – Senior Handballer of Year 
Ed Lee was born in Dublin in the shadow of Croke Park and has been playing handball since the age of four. He went on to win Dublin and Leinster titles as a Juvenile along with an All Ireland senior singles colleges title in 1976. In 1984 he won the All Ireland Junior hardball singles and doubles titles. In 2006 Ed and his wife Angie bought the old schoolhouse in Aughawillan and he joined the Fenagh Handball Club. He won the Leitrim 60X30 senior singles in 2008 defeating Danny Reilly of Gortletteragh in the final and again, in 2009 he defeated the emerging Martin Raftery of Drumshanbo. In 2010 Ed lost his Leitrim title to a young Donal Wrynn, who later went on to win All Ireland Minor titles. During those years Ed was also representing Leitrim in masters grades and in 2012 he won the all Ireland golden masters title defeating Eamon Purcell of Kilkenny. Last year 2019 Ed reached the all Ireland Emerald Masters final against Billy Mullins of Tipperary. However a leg injury three days before the final prevented Ed from playing to his full potential and second best had to be his lot. For his all round entertainment on and off the handball court, this years senior handball player of the year goes to Ed Lee. No wine for Ed tonight as he plays Pierce Lawlor of Galway in the morning.
– Jim Lynch Hall of Fame Award winner –
The Jim Lynch Hall of Fame Award is presented by the Leitrim Supporters in Dublin in honour of one of its founding members, & former county player of the 50/60's Jim Lynch. Founded in 1986 this is the thirty-fourth year of the Leitrim GAA Supporters Club
This award means a lot to the supporters in Dublin, & to the recipients who are recognized for a lifetime of service & contribution to the GAA in Leitrim.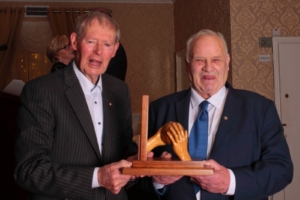 Sean Maxwell
-It is with a great sense of pride that Sean Maxwell of Drumreilly accepts the Jim Lynch Leitrim GAA Hall of Fame award.
No doubt Jim himself would be so happy to see the award named in his honour go to a man who shared many of Jim's own qualities in relation to the green and gold. Love of club and county; pride in one's own place; dedication to the cause; a great sense of integrity, of fair play, of sportsmanship, of respect for opponents, of volunteerism, of all the values we look for in a true GAA man.
As a young Leitrim supporter, Sean would have admired Jim as a star player on the great team of the 1950's, disappointed that Jim and his team mates did not gain the footballing honours they deserved. He would have the same admiration for the amount of effort and good will that Jim showed towards Leitrim long after his playing days and then his role as President of Leitrim County Board GAA.
That whole-hearted allegiance of Jim's mirrors exactly what Sean Maxwell did for his club and county.
Of course, Sean is much more than a GAA man. He is noted as a community activist, involved in a myriad of organisations in his own parish and in the much wider district of Ballinamore, Newtowngore, Carrigallen and many other parts of Leitrim. His organisational ability and his affable personality have been well utilised by countless committees, whether in drama, agricultural shows, concerts, festivals, community councils, fund raising, church or hall restorations — anything that is of help to his fellow man. A man of strong faith, he has been a steward at Knock Shrine and Basilica for decades and has travelled to Lourdes on many occasions as a volunteer helper with Diocesan Pilgrimages.
Sitting for hours at draughty hall doors, collecting entrance fees for GAA and Scór events, or standing at even more uncomfortable gates at GAA venues throughout the county are no easy tasks and are far removed from the more glamorous roles that others might enjoy. Sean would have been door-man or gate-man Sunday after Sunday, week after week, without ever being able to enjoy whatever show or match that was taking place at the venue. This, of course, is a necessary, but unattractive task of any treasurer. It was done with pleasure and pride. Sean can be very proud of the magnificent work he did as Treasurer/Joint Treasurer of Leitrim GAA, not only in manning entrances, but doing all the book-keeping necessary, attending meeting after meeting, preparing financial reports, working at pitch developments, making preparations for matches and other activities, spending hours and hours in his efforts to be of service to the County Board and to the county teams.
With his beloved Drumreilly he did likewise, from being a respected officer to helping to produce club magazines, to doing plenty of manual labour during the pitch development, to always being on hand to take part in a Scor Novelty Act, to being a volunteer in the true sense of the word.
Sean Maxwell is held in the highest esteem by the County Board and its clubs and by all followers of Leitrim GAA. He is truly deserving of the honour of receiving the Jim Lynch Hall of Fame Award
Retiring Officers
Assistant Secretary John Keenan – Gortletteragh
John Keenan has served Leitrim County Committee in a number of roles over the best part of a decade and a half. A term as Assistant Treasurer was sandwiched by two terms as Assistant Secretary, the more recent having just ended as John concluded his 5 year term as Rúnaí of the busiest committee in Leitrim GAA, the CCC. This has been John's finest contribution to Leitrim GAA and the manner in which the games programme was delivered over the past five years has been testament to John's efficiency and professionalism. Previous to this John was Leitrim's first Senior Inter County Liaison Officer and his efficiency in that role made the job of four successive Leitrim Senior Managers a much easier role.
Development Officer Seán O Suilleabháin – Ballinamore Sean O Heslin's
Seán Ó Súilleabháin has held a number of officer roles with Leitrim GAA over the long period of his involvement. Oifigeach Cultúra agus Teanga, Leas Cathaoirleach and most recently Development Officer have been among the portfolios he has held and served with distinction. Indeed many of Seán's probing motions to Congress have resulted in significant change, eventually, and in particular at this stage we immediately think of Hawkeye technology. He has now turned his attention to LRF (Leas Réiteoir Físeán) or better known in other sporting circles as VAR. Go néirí leat leis an obair a Sheáin. Tá an áthas orainn and píosa seo a bhronnadh ort  mar gheall ar an méid a dhein tú ar son gníomhaíochtaí Cumann Lúthchleas Gael Liatroma.
Coaching Officer Hughie Clinton – Dromahair St Patrick's
Hughie Clinton has held the Coaching Officer Portfolio for the past 4 years. In that period of time he has overseen the transformation of our full time coaching staff from in that we now have three full time GDAs in football and a shared GDA with Sligo concentrating on football. The growth in the numbers of people taking coaching course has rocketed in Hughie's time and we look forward to the fruits of his labours in years to come.
Leas Cathaoirleach Stephen Flynn – Mohill
Stephen has been our most recent Vice Chairman, having held the role for the past three years. Previously he served Leitrim GAA as its Rúnaí from 2002-03 and in his most noteworthy role acted as long time Secretary of Bord na nÓg during the 1980's and 1990s at a time when the growth of underage football flourished. His efficiency in all of his roles has been most noteworthy and we acknowledge his stellar contribution to Leitrim GAA over many decades.
Seán McCartin – Referee's Co Ordinator – Aughavas
Sean McCartin became referee's coordinator during the stewardship of the late Cathaoirleach Joe Flynn and has continued to carry out that role with great efficiency during the period of the last administration. His term in this role has lasted eight seasons and we're sure that he is delighted to hand over to the present incumbent Eamon O Grady. We thank Seán for the excellence of his term in the role and indeed his excellent contribution to refereeing in Leitrim in general over many, many years.
Cathaoirleach Traolach Ó Baoill
Five years ago Terence Boyle took on a role that in truth nobody really wanted. He got stuck in immediately and determinedly set about ensuring that the COE would get up and running and completed. In January 2016 the first Leitrim Senior Training session took place at the venue and only for Terence's determination, this milestone would not have been reached so soon in his term. There remained a lot more to do but Terence's dream to have it completed in his term was realised beyond our wildest dreams last September as Uachtarán CLG John Horan officially opened a facility that all Leitrim GAA people can be extremely proud of. The Leitrim Wall has been instrumental in ensuring that this has happened and we are extremely grateful for this, in addition to securing the naming rights thanks to Tony and Bernadette McGovern, Aughavas and London. The McGovern Aughavas Centre of Excellence is the jewel in the crown of Terence's leadership term but he has also overseen Leitrim teams play two hurling finals and a football final in Croke Park and that will also be a proud memory for a person who played neither game in his youth. We thank Terence for his massive and selfless contribution to Leitrim GAA over the past five years.
Rúnaí Attracta O Reilly
Outgoing Secretary Attracta O Reilly has had an outstanding term in office. A pioneer in many aspects for women in the GAA, she has had the singular distinction of being the first ever female secretary of Leitrim GAA, having previously held the roles of Rúnaí Coiste na nÓg Liatroma and also Rúnaí Naomh Muire Cill Tochairt. Added to those distinctions she also was the first County Board Female Secretary in Connacht but blazed a trail for other females in the province to such a degree that by 2019 five of the Connacht Championship Counties have also had female secretaries, namely Roscommon, Sligo, New York, London and of course ourselves. Attracta's attention to detail has been excellent over her five years at the helm and at the recent Convention produced what is arguably the finest overall report to a Leitrim GAA Convention. We thank you Attracta for your patience and diligence.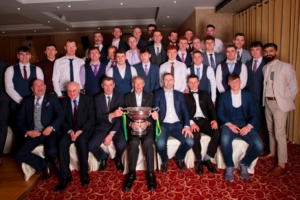 Lory Meagher Cup Winners 2019
After a mixed Allianz League Leitrim did not get off to a great start in this championship either with our trip to Manchester to play Lancashire in the first round ending in defeat on a score line of 0-20 to 1-15. We turned it around however in the next two games by defeating Cavan 2-16 to 1-16 and Fermanagh 2-18 to 1-16 to reach the Lory Meagher final.
Leitrim were heading back to Croke Park, the Hurlers this time to play Lancashire in the Lory Meagher final. Again the people of Leitrim rowed in behind the team and the support on the day was wonderful.
The game itself was close but it looked to be slipping away from us as we approached full time losing by 3 points, when James Glancy rocketed home a goal in the dying minutes to draw level and bring the game to extra time.
Leitrim upped their game to come out winners on the day, achieving what no Leitrim team adult had done previously, they set a record to be the first team to win an All Ireland title in Croke Park.
The excitement was electrifying and an excellent result for the team, congratulations to the players and their management of Martin Cunniffe, Michael Coleman, Paddy O'Connor, Lucia Tyrell and Hilary Phelan, I would like to take this opportunity to thank the management team for their work and dedication with the team over the last number of years.
Congratulations to James Glancy and Enda Moreton on being awarded All Stars at the GPA All Stars awards held earlier this month.
I want to congratulate our U17 County Hurling team on their win in the Celtic Challenge Cup. A week after our Seniors won the Lory Meagher Cup this bunch of lads added their own All-Ireland title to the pot by beating Longford in a brilliant display of hurling in Tullamore. Nice to witness two Leitrim teams winning All Ireland titles within a week of each other. Congratulations to the Team and Management.
Martin Cunniffe – Team Manager
We wish to acknowledge the selfless dedication of Martin Cunniffe to Leitrim Hurling over the past number of not years, but decades. Chairperson of Leitrim Hurling over recent years, Martin also held the roles of Secretary and long time Treasurer back in an era when along with Mickey Dorrigan and the late Paddy Phelan they kept Leitrim Hurling alive when many would have let it die. In more recent times Martin has been the Manager of the Leitrim Senior Hurling Team, a period that has lasted nine seasons. Over that period the team has grown an improved, and with the considerable addition of Galway man Michael Coleman to the coaching set up in recent years the improvement has been exponential. We have lived through some great times for Leitrim Hurling with two appearances in Championship Finals in Croke Park and a League Final over the last three seasons and we thank Martin and the entire Cunniffe family for their dedication to the Leitrim cause over that extended period.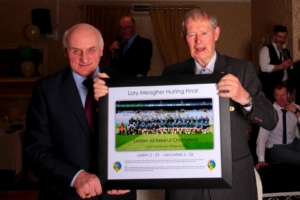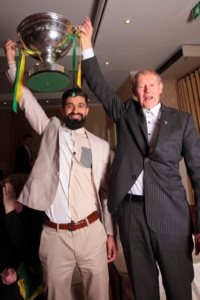 https://www.leitrimgaa.ie/wp-content/uploads/2020/02/WhatsApp-Image-2020-02-16-at-22.58.06-2.jpeg
1066
1600
Leitrim GAA PRO
https://www.leitrimgaa.ie/wp-content/uploads/2017/07/cropped-Leitrim_Crest_3d_Trans_552x552-180x180.png
Leitrim GAA PRO
2020-02-16 23:23:24
2020-02-16 23:23:24
2019 Lory Meagher Cup Medals and 2019 Leitrim GAA Awards Presentation