Live stream updates – new platform – live.leitrimgaa.ie
This week is the last of the free to view games as the stream team head to Annaduff GAA pitch for the Smith Monumentals Round 5 Intermediate clash between Annaduff and Gortletteragh.  The throw-in is at 7pm and we plan to go live around 6:45 with the popular pre-match build up including interviews.
For the last number of games we utilised our YouTube account but from this point on wards we will be moving over completely to our new video streaming platform which has been carefully chosen to offer the best opportunities to view games on as large a selection of devices as possible.
Last week we made available a sneak peak of the login process to allow you to start activating your accounts and familarising yourselves with the process – this was achieved by clicking on a link on this website.   A large number of people have already created their accounts which is a free account and is a relatively simple process – no credit card information is required at this stage.
This week the full blown platform is being unveiled and this weeks livestream will be available to view free of charge.  This weeks game or any future games will NOT be available on Youtube.
The link to the new home for our live streams is:   Live.LeitrimGAA.ie
All of the previous free games are already available on the new platform as we have moved them over from YouTube and they will remain free to view in their new home.
It is advisable to create your account now and view some of the previous free games to familiarise yourself with the variety of devices upon which you can view the games.  We suggest that you don't leave it until 5 minutes before throw-in to figure out how it works !
There is a 24/7 support website available at https://support.inplayer.com/  with advise to solve most problems.   A support person is available 2 hours before throw in to assist with login issues – support@inplayer.com
As many have already found out creating an account is quick, easy, free and can be done by a simple 1 step connection to your favorite social media account like Facebook, Twitter or via a more traditional email & password combination (recommended).  Only use the social media login option if you are going to view on a device that you already use for social media.     If logging in directly on something like a Smart TV it is advisable to use the email/password combination as social media quick logins may not work.  As mentioned above credit card information is NOT required at this stage.
The video player is web browser based to provide access to as large a selection of devices as possible.  All games should be easily viewable on ios based devices like iphones, ipads,  Windows based devices like standard laptops, phones, etc,  and Android based devices like smartphones and tablets.  Basically any device that has a browser should be able to reach the platform
The video player is compatible with Chromecast & Airplay to allow you to view on your TV via your connecting device as listed above – you will need to use mirror mode which is an extra step in the process and if using an ipad/iphone to cast then you may need to utilise a 3rd party app.
Some Smart TV's will allow streaming without any issues from within their built-in browser however chromecasting or similar is recommended – please note you will need to cast using the mirror option which is an extra step compared to the single click option with YouTube.
If you have an Android based SmartTV and not using casting then the recommend browser for streaming is PuffinTV.  For more assistance please go here.  This can also be used for all other Android devices like smartphones – please test your device's capability well in advance of a live event.
Some quick pointers for a successful viewing experience:
on most devices Chrome (PuffinTV on android)  is the preferred browser to get to Live.LeitrimGAA.ie
using Social Media logins may not work on some devices  – the traditional username/password is recommended especially on devices that you don't normally use for social media
your broadband download speed should be in excess of 5mbs
(as we aim to stream in Full HD* (1080p) where possible from Quarterfinals onwards

.)

If a stream should fail please refresh your browser and this should help you to reconnect.
if casting you will need to use the mirror screen option from your device – chromecasting or similar is the recommended approach and if using an ipad/iphone to cast then you may need to utilise a compatible 3rd party app.
Try out various options well in advance of your chosen event in order to find the method that suits your device(s).
Unfortunately it is not possible to integrate YouTube into a paywall system and 6 different paywall systems were evaluated during extensive trials over a number of weeks.   We believe that we have chosen the system that offers the public the easiest access, easiest payment method and the ability to play back on the largest number of devices.  Many of the other paywall systems tested did not allow casting so watching on a small screen was the only option.  Also other systems did not adjust the speed to try and match your broadband connection speed – in a lot of cases if your broadband speed dipped then you would lose the picture.  To avoid all these issues we are using Vimeo the 2nd most popular player to YouTube and it successfully integrates with the paywall software.
Please note that the sharing of your account with others is not possible as the system is designed to detect account sharing and will block all simultaneous connections.
For any login or registration-related questions please visit:
https://support.inplayer.com/
A support team member will also available 2 hours before a scheduled live game to provide assistance.
Officials associated with Leitrim GAA will not be in a position to provide support.
Details of payed services and possible packages will be announced closer to the quarter final stage.
I hope you enjoy the new platform and advise you to test it out well in advance of next weekends game !
Brendan Doyle
IT officer
*subject to a reliable upload connection at venue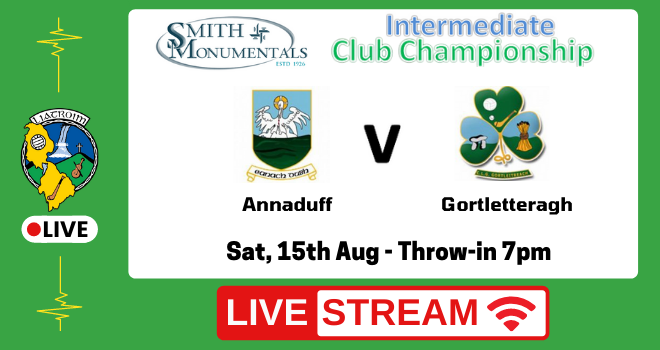 https://www.leitrimgaa.ie/wp-content/uploads/2020/07/Livestream-Gen-WebNews-660x350-v2.png
350
660
admin
https://www.leitrimgaa.ie/wp-content/uploads/2017/07/cropped-Leitrim_Crest_3d_Trans_552x552-180x180.png
admin
2020-08-12 19:21:40
2020-08-26 22:26:31
Live stream updates – new platform – live.leitrimgaa.ie