Leitrim GAA Squad And Officials Arrive Safely Back From New York
The Leitrim squad and officials arrived safely back in Ireland earlier this morning from our Connacht SFC match with New York, played in Gaelic Park, on Saturday night last. While we, obviously, are very disappointed with the result of the game, we wish to express our extreme gratitude to all the supporters who travelled in great numbers to the Bronx and gave the lads great encouragement during the game, and all those who, no doubt, watching it on GAAGO or listening to it on local radio, would have likewise been encouraging and willing the team to victory. We wish to also acknowledge all the help and support we received from the Leitrim Community in New York, led by our team sponsors Seamus and Caitriona Clarke.
The preparation, dedication, and effort put in by all concerned in the run-up to this game was supposed to cumulatively lead to a win and a place in the Connacht semi-final. It wasn't to be, unfortunately, and we heartily congratulate New York on a historic victory. Their scenes of unbridled joy were in sharp contrast to the desolation felt by our lads at the final whistle. New York have many years of 'what might have been' since they first entered the Connacht SFC in 1999, and last Saturday, their long wait for a victory came to an end. We wish them the best of luck in less than two weeks as they prepare to take on Sligo in the Connacht semi-final.
We look forward to the Tailteann Cup, which commences on May 13/14, and we implore anybody with an interest in the promotion of these young lads to maintain positivity over the next number of weeks. It is easy to be critical, and positive criticism is always welcome. Some of what has been posted in the aftermath of last Saturday night makes for difficult reading and, dare I say it, has been made with little thought for those on the receiving end. The pen is mightier than the sword so always bear in mind that our players are dedicated and exemplary young men who give up huge chunks of their time and make tremendous sacrifices in pursuit of an amateur sport that is supposed to be for everybody's enjoyment. It goes without saying that our team management left no stone unturned and did their utmost to have the lads primed for the match.
All we lost on Saturday night last was a mere game of football. We are very proud of them all as indeed we're certain are their parents and all the family members associated with them.
Beidh lá eile. Liatroim Abú.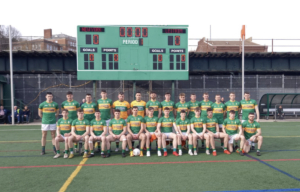 https://www.leitrimgaa.ie/wp-content/uploads/2023/04/Leitrim-Team-v-New-York-2023.jpg
600
939
Leitrim GAA PRO
https://www.leitrimgaa.ie/wp-content/uploads/2017/07/cropped-Leitrim_Crest_3d_Trans_552x552-180x180.png
Leitrim GAA PRO
2023-04-11 20:45:03
2023-04-11 20:45:03
Leitrim GAA Squad And Officials Arrive Safely Back From New York