Packy McGarty – Stuffed Socks & Railway Cups from 'Fág a' Bhealach', A History of Mohill GAA
Packy McGarty's home club was Mohill. Below is an article by Eamonn Duignan from 'Clear the Way' the history of Mohill GAA Club, compiled and edited by Des Keegan & Maureen Lynch.
Packie McGarty – Stuffed Socks & Railway Cups – Eamonn Duignan
"McGarty, a legend without the laurels" The headline on the Irish Independent, 30/07/2000
In a history such as this, where so much is owed to so many over a century and a quarter of endeavour, it is inviting criticism to single out one individual for special mention. However, Packy McGarty, not only one of the greatest Leitrim footballers to put on a county jersey but one of the greatest footballers of all time merits such a distinction. Not just because he was a great footballer but because he embodied all that is admirable in human nature – pride of place, utter dedication, an almost fanatical devotion to the cause of Leitrim Football and a complete absence of bitterness. Above all, despite all the near misses and litany of disappointments, he retained that youthful enthusiasm that sustained him, year after year for all the 22 years he played Inter -county football. In the words of another Mohill man, well known for his linguistic ability and for his fondness of metaphors "McGarty was to most other footballers what Everest is to Drumlins"
In 1958 Leitrim met Galway for the second year in a row in a Connacht Final, in Roscommon, and for the second year in a row they were beaten. Journalist Jim Lydon wrote- "The wonderful display of Packy McGarty will live long in the memory of the 12,000 spectators fortunate enough to be present. I have never witnessed nor can I ever hope to witness a better individual performance than that turned in by the wonderful Leitrim player. It was indeed a fitting tribute that he should be carried off the field shoulder high at the end of a brilliant game"
"Considering he was pulled on 14 times, and his no 11 jersey in shreds he gave a lesson in sportsmanship as he never once retaliated although he received plenty of provocation'. Long may he reign as King" – Reported by Breffni in the Longford Leader on the same match.
Packy McGarty was born in Treanmore in Mohill on the 29th of April 1933. His father Dan was passionate about football and this passion was passed down to his sons Packy, Dan, Willie and Eddie and his sister Kathleen. Dan, Willie, and Eddie emigrated to London and Kathleen to the USA.
Packy recalls trips downtown for messages when he did most of his skills training, tipping a ball on his toe and jumping up and down trying to hit the cigarette signs over the shops. When I say a ball, it was not a ball as we know it today. Packy described his ball 'as a sock with grass or cloth stuffed into it and little bounce out of it'. He was always swerving, dummying, and going on solo runs. This was the 1940s and times in Mohill, like elsewhere in Ireland, were hard. Packy tells the story of going to matches by bicycle, by ass and cart and in a Baby, Ford owned by the twin Casey's (Michael and Tommy). There was only one Baby, but fifteen players to transport. As many players as possible fitted into the car, which would leave for the match with the remaining players starting to walk. There were players hanging out of the car but as Packy says 'there were very few cars on the road'. The Baby would drop off the players and come back and pick up the remainder who had made some of the journey on foot. Going to matches in an ass and cart on cold days was difficult because it took ages to warm up.
Packy also recalls the story of playing Bornacoola in a tournament in Faughnan's field in Dromod. The prize was 'a football' for the winning team. Mohill managed to beat Bornacoola and after the match, the team was so excited with their victory and with their prize that they came back to the park in Mohill and kicked the new football until 11.30 that night.
Times were difficult and Packy's father Dan went to America twice for short periods to earn a wage to rear the family. He wanted his wife to go with him, but she was reluctant until her own widowed mother passed away. But her mother lived a long life and the family remained in Ireland.
Instead of going back to America for work Packy's father Dan went over to work in England, just like so many Irish families at that time, and sent back money every Thursday evening 'by wire' to the Post Office in Mohill. The Narrow-Gauge Railway Station was busy transporting local people to Dublin so they could go over to London for work. People needed money to survive and pay the bills and England was the place where the work was. While Dan was in England his young sons earned their own pocket money. Packy managed to get work in Mae Higgins (Luke Early's), opening the shop and carrying water from the water pump to the house. His wages were three shillings a week. Willie got a dispensation from school to arrive in late after he completed his milk round working for Dick Ellis. Dick Ellis passed on the Dairy business to his son Liam and the business is still going strong today with Liam's sons Richard, Padraig, and Gerard.
His First 'Medal'
In 1946 and 1947 Packy, playing at midfield, won Leitrim juvenile medals with Mohill School. This was a 7 -a -side competition between schools in the county. Mohill Boy NS was based where Cashin's garage is now and the teacher at the time was an Offaly man, Mark Keegan who was 'into' football. Packy recalls this team fondly.
Packy, like all his teammates, was looking forward to receiving his first medal, but excitement turned to disappointment when the 'medal' turned out to be a half-crown, even though a half-crown represented a day's wage at the time. The presentation took place in the square beside Jack Kelly's Hotel. Eddie Rowley, another brilliant footballer was captain of the team, and he went on to star with St. Mel's College, and with Leitrim. Along with John Poocher Gordon, who played in goals, Packy and Eddie starred with Leitrim when they won the Connacht Junior final in 1952 and were beaten by Meath in the All-Ireland Home Final.
The photo of his school pals is Packy's most prized possession and sits proudly on the mantelpiece of his Dublin home. The school principal was Master JJ Kelly.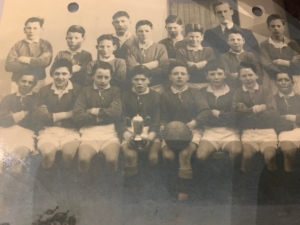 Front row L-R- Seamus Clyne, Christy Clyne, Michael Crossan, Eddie Rowley, Packy McGarty, Brian Bohan, Jack Conboy, Michael Sammon
Back row – Mel Kenny, Paddy Maguire, Sean Mitchell, John Mulligan, Seamus Gallagher, Pascal McKeon, Joe Mitchell, Cyril McGovern, and Eddie Foley
Teacher – Mark Keegan
The photo was taken by Tommy McTaggart –Glebe Street
At the age of 15½ Packy went working in London with his father and brothers. He stayed six months, but he decided it was not for him left and returned home. Shortly after he came home, he played a match for Mohill and he was selected to play for the Leitrim senior team against Offaly in the Park. However, nobody told Packy he was selected. And having arrived at the match as a spectator he had to cycle home for his gear. Packy played for the Leitrim senior team (at sixteen) before he played for the Leitrim minors and thus began an incredible playing career with Leitrim spanning four decades until he retired in 1971.
Minor Championship
Mohill had no minor team and he won two minor championship medals with Fenagh in 1950 and 1951. The Fenagh connection came through Eddie Rowley. Eddie was a student in St Mel's College Longford (winning Leinster school medals) and one of his Mel's teammates was Jimmy McKeon from Fenagh. Jimmy asked Eddie to play and Eddie asked Packy.
Packy sees himself as one of the lucky ones to have such wonderful experiences from football. He puts his range of skills down to the amount of practice he put in as a youngster. He had always a small ball and was always tipping it on his toe. When you ask Packy who his idol he mentions Leo McAlinden. Leo was the first man he saw go on a solo run. His big ambition was to win a Connacht senior medal with Leitrim.
What is amazing about McGarty is that he stands at 5' 8" and in his playing days he was 12st 7 lbs. But he says himself 'he did an awful lot of training. In his digs in Dublin, he paid his landlady a special amount each week so that she would buy a 'tray' of eggs especially for him. Great pace –a fitness fanatic, in training he always did 10 x 100-yard sprints, he did not mind the 'skites,' and was well able for them, he always took the shortest route to goal and did not care what was in the way. Packy trained on his own and after training he went home to bed. He feels 'travelling two hours after training is counterproductive'. McGarty earned his reputation as a star forward but if you talk to him his favourite position was wing half back.
Connacht Debut
At the age of 20 McGarty was a star with the county team and was rewarded with a starting place on the Connacht team against Munster in Tralee in 1954 along with his Leitrim colleague Tony Hayden. Packy was working with the ESB at the time in Donegal and began the long journey on Saturday morning arriving in Tralee on Saturday evening. He scored 1-4 that day and after his first point Padraig Carney (Mayo) came over to him and said, 'well done junior'. M V Cogley writing in the Irish Press wrote- "Packy McGarty whose clean fielding, speed off the mark, and accurate placing proved altogether too much for Jas Murphy of Kerry who can rarely have had such an undistinguished hour'" Jas Murphy was 6' 3 "and Packy loved playing against tall players. Packy was not overawed, he was always confident in his own ability. Before the game he was marching behind the band and someone told him he was out of step. Packy could not care less.
Packy won three Railway Cup medals in '57 and '58 as a player and one as a sub in 1967. At the time Railway Cup Finals attracted crowds of 50,000. Packy also played for Ireland against the Combined Universities and won three Irish 'Jerseys'.
Packy only played with Leitrim once in Croke Park when he was captain and lead the Leitrim team out to play Derry in the National League Semi–final. (1958) Mascots were banned in the GAA but a Leitrim player, Paddy Reilly (Aughawillian), asked Packy would he mind holding his son's hand (as a mascot) during the parade. Paddy Reilly's own father (the child's grandfather) had agreed he would pay whatever fine was imposed by the GAA. The mascot marched with the team and there was no fine.
The two games which stand out in Packy's memory are the 1958 Connacht Final defeat and the Railway Cup semi- Final in Ballinasloe against Leinster when he and his fellow parishioner Cathal Flynn from Gorvagh stole the show in a 1-11 to 0-7 victory. Packy scored 0-4 and Cathal 1-3.
Packy was instrumental in getting Leitrim to four Connacht finals in a row – 1957, 1958, 1959 and 1960.The 1958 Connacht Final, however, more than any of the others, has bittersweet memories for Packy, which Galway won by 2 points, 2-10 to 1-11. Sweet, because it was, perhaps, his greatest game ever in the Leitrim Jersey; bitter, because it was another defeat in a game Leitrim could have won Leitrim were 4 points behind at half-time and Packy recalls "there was only a light partition between the dressing rooms and the speeches coming from the dressing room at half-time were shocking. The partition was shaking with the hits". Leitrim hit back in the second half and when Cathal Flynn banged home a goal. "Roscommon shook that day". Leitrim pulled level with ten minutes to go, but Galway scored three late points to close out the game. McGarty was carried shoulder high off the pitch, but he felt that "the stuffing was knocked out of us that day". The Roscommon Herald reported that it was one of the best Connacht Finals ever seen; It went on "Packy, this loyal son of Leitrim, was an inspiration. Bobbing, ducking, swerving, splitting the defence with his brilliant runs, placing shrewd passes, rallying his forces, and his display will be a treasured gem in the storehouse of treasured memories. The Leitrim Observer humorously recorded "A half time tip to the Leitrim mentors went unheeded, send McGarty out for the second half without a jersey"
The Leitrim team of 1958 was well prepared. It had its own masseur. Kevin Heffernan, former Dublin player and manager, worked with the ESB in Sligo, and was friendly with Leitrim player Tony Hayden. He attended several of the team's training sessions, passing on some advice to the Leitrim players.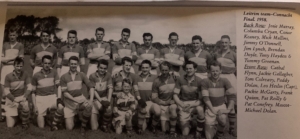 After the 1958 defeat McGarty emigrated to England but continued to travel over and back from London for games. In 1959 Leitrim beat Mayo after a replay, and again McGarty excelled. However, in the final they were well beaten by Galway, 5-08 to 0-12. Gael Og, the Leitrim Observer correspondent wrote "Our County can truly be dubbed a child of misfortune"
In 1960 Galway beat Leitrim in the fourth Connacht Final in a row. Packy was working all the hours he could in England and his fitness suffered. He returned to Ireland in 1964 and bought a shop in Clondalkin which he ran for 34 years before he retired. He played club football with Round Towers in Clondalkin, and Sean McDermott's, and played in a county final against St Vincent's, losing by two points.
In 1964 two players from each Province were selected to play in the J F Kennedy Memorial games in an exhibition game in Gaelic Park New York. Leitrim beat Cavan by 1-9 to 1-8 with Packy scoring eight points.
He played in two more Connacht finals, in 1963 and 1967, losing heavily on both occasions.
Packy played Senior club football in London, Leitrim, and Dublin, but a club championship medal eluded him in each county. He never considered playing with any other county except Leitrim, despite the obvious frustration which he must have felt with a continuous lack of success. He recalls playing Donegal and Leitrim were 12 points up with ten minutes to go and ending up on the losing side when Donegal scored four late goals. After the match he flung his jersey into the corner of the dressing room in total frustration. However, he was always an intensely proud and loyal Leitrim man, playing with the lads he grew up with and to him taking part was more important than winning, however demoralising that might be.
If Packy did not win the medals he deserved while playing he more than made up for it when he retired. (See appendix)
The great Kerry team of the eighties was the best team he ever saw, and he has great admiration for Jack O Shea and says that John Egan was the best of all Kerry forwards. That Kerry team in Packy's opinion did not have a weak link. He loves the current Dublin team, the way they play and loves watching their forwards.
His Last Game
Throughout his career Packy said he would play his last game for his home club Mohill and on the 19th of June 1977, he travelled the 100 miles from Dublin to keep that long-ordained promise. Mohill were playing Gortletteragh in the loser's group of the senior championship. The match started without Packy and when he did arrive, he joined the subs with number 19 on his back. After 10 minutes action was required and he was brought on, replacing P J Reynolds. The Observer reported 'Barely 10 seconds on, Packy zoomed in on a loose ball and flicked it on to an unsuspecting colleague. His cool brain and his impeccable high fielding were still evident'. The Mohill team that lined out on that historic day was: Sean 'Bula' McCrann, Brendan Gallagher, Michael McGuinness, JJ McKeon, John Gordon, Anthony Canning, Padraig Keegan, Des Keegan, Michael Duignan, Brian Gordon J Reynolds, Stephen Kerr, Eamonn Duignan, John Baxter, Willie McHugh.Subs- Packy McGarty for P J Reynolds, PJ Reynolds for Stephen Kerr.
Final Score; Gortletteragh 1-4, Mohill 0-3
The Mohill scorers were – Michael Duignan, Eamonn Duignan and Padraig Keegan (0-1 each)
Mohill and Leitrim legend Packy McGarty had played his last game of football and ended a remarkable career from his first match with Leitrim in 1949 to his last game in Páirc Sean MacDiarmada with Mohill in 1977.
Perhaps we should leave the last word to Jack Mahon (R.I.P.), the famous Galway player, who was McGarty' direct opponent in three Connacht finals, and with whom McGarty lined out for Connacht in the Railway Cup. His tribute is a fitting testimony to Packy, both as a player and a human being.
"It was my pleasure and at times discomfort to be Packie's direct opponent in the Connacht Finals of 1957 in Galway, 1958 in Roscommon and '59 in Sligo. He was then at the zenith of his career. He had the elasticity of a rubber ball, could turn on a sixpence, was an impeccable sportsman, kept coming at you toe to hand, toe to hand, was indomitable, irrepressible, a born footballer. '58 was his greatest hour. I remember being delighted to see the rain fall before the end, feeling I would have a fielding advantage, which I had. One incident from that game, refereed by Johnny Mulvey, is still with me. Early in the game Sean Purcell and myself sandwiched him between us, and a knowing nod between us suggested the end of the threat of McGarty that day. He bounced up from being winded to take the free, got on with the game, and played the game of his life.
I remember clearly the 1959 final in Sligo. I had been injured in a clash with Packy just before the full-time whistle, and for one reason or another did not meet him after the game. I had to drive my brother Brendan to catch the boat from Dun Laoghaire to England. Having bid goodbye to my brother who should race down the pier, almost the last to catch the boat, bag in hand but the bold Packy. A quick shake hands, no time for a chat, but I really admired this man who had to be in time for work the following morning. It was around this time that Packy was the victim of a vicious frontal charge after he had kicked the ball in a club game with Tara's. A rotten facial injury required eleven stiches and the culprit, well known in London circles, got off scot-free. A lesser mortal would have given it all up. Not Packy. This greatest of all Leitrim men had more to give to his county"
Packy McGarty, the slip of a lad from Mohill will always hold a treasured place in the hearts and minds of Leitrim natives all over the world.
Awards and Medals
Leitrim Team of Millennium 2000
Connacht Team of the Millennium
Sunday Independent team of the century for players who never won an Ireland
Three Ireland jerseys for the Irish Combined Universities games – This was an annual event when the cream of Irish footballers lined out against the Combined Universities–the greatest honour the GAA could have bestowed. First Leitrim player to be so acknowledged since inception of these games. The matches were in aid of the Catholic Social Service Conference.
Trip in 1964 to the USA for the Kennedy Memorial Games- one of six Irish players selected to go to America
Irish Examiner GAA President's award – Recognition of unsung heroes 2004
1996 – London Dream Team 1966-1996
Three Railway Cup medals with Connacht – 1957 and 1958 as a player and 1967 as a sub.
One Connacht Junior medal-1952 – John Gordon (Mohill) was the goalkeeper
Two McKeever Cup medals
Two Division 2 medals in Dublin (One with Sean McDermott's and one with Round Towers)
Two Leitrim Senior Football League Medals
Two Minor Championship Medals (Fenagh 1950 and 1951)
Reproduced with kind permission of Mohill GAA from 'Fag a' Bhealach' (Clear the Way) – A History of Mohill GAA Club.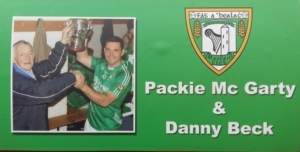 https://www.leitrimgaa.ie/wp-content/uploads/2021/04/Packys-brick.jpg
360
421
Secretary Leitrim GAA
https://www.leitrimgaa.ie/wp-content/uploads/2017/07/cropped-Leitrim_Crest_3d_Trans_552x552-180x180.png
Secretary Leitrim GAA
2021-04-06 15:10:03
2021-04-06 15:23:10
Packy McGarty – Stuffed Socks & Railway Cups from 'Fág a' Bhealach', A History of Mohill GAA