The late Packy McGarty RIP, Leitrim GAA and Mohill GAA.
It is with great sadness we learn of the death of Leitrim GAA Legend Packy McGarty RIP. Packy passed to his eternal reward last night (Monday).
Packy McGarty, not only one of the greatest Leitrim footballers to put on a county jersey but one of the greatest footballers of all time. Not just because he was a great footballer but because he embodied all that is admirable in human nature – pride of place, utter dedication, an almost fanatical devotion to the cause of Leitrim Football and a complete absence of bitterness. Above all, despite all the near misses and litany of disappointments, he retained that youthful enthusiasm that sustained him, year after year for all the 22 years he played Inter -county football ( 1949-1971). 
Packy's gave many majestic displays on the football field but among the most memorable were:
The 1954 Railway Cup game against Munster in Tralee
The Railway Cup semi-final v Leinster in 1958
The 1958 Connacht Final v Galway
The JF Kennedy games in New York in 1964 when two players were selected from each province to play in a Memorial Game
1954: At the age of 20 McGarty was a star with the county team and was rewarded with a starting place on the Connacht team against Munster in Tralee in 1954 along with his Leitrim colleague Tony Hayden. Packy was working with the ESB at the time in Donegal and began the long journey on Saturday morning arriving in Tralee on Saturday evening. He scored 1-4 that day and after his first point Padraig Carney (Mayo) came over to him and said, 'well done junior'. M V Cogley writing in the Irish Press wrote- "Packy McGarty whose clean fielding, speed off the mark, and accurate placing proved altogether too much for Jas Murphy of Kerry who can rarely have had such an undistinguished hour'" Jas Murphy was 6' 3 "and Packy loved playing against tall players.  Packy was not overawed, he was always confident in his own ability
1958: Packy won three Railway Cup medals in '57 and '58 as a player and one as a sub in 1967. At the time Railway Cup Finals attracted crowds of 50,000. In the 1958 Railway Cup Railway Cup semi- Final in Ballinasloe against Leinster when he and his fellow parishioner Cathal Flynn from Gorvagh in a 1-11 to 0-7 victory between them scored 1-7. The headline in the Irish Press next day was 'McGarty & Flynn-stole the show in Ballinasloe'
1958 Connacht Final: Packy was instrumental in getting Leitrim to four Connacht finals in a row – 1957, 1958, 1959 and 1960 and 1963 & 1967. The 1958 Connacht Final, however, more than any of the others, has bittersweet memories for Packy, which Galway won by 2 points, 2-10 to 1-11. Sweet, because it was, perhaps, his greatest game ever in the Leitrim Jersey; bitter, because it was another defeat in a game Leitrim could have won Leitrim were 4 points behind at half-time and Packy recalls "there was only a light partition between the dressing rooms and the speeches coming from the dressing room at half-time were shocking. The partition was shaking with the hits". Leitrim hit back in the second half and when Cathal Flynn banged home a goal. "Roscommon shook that day". Leitrim pulled level with ten minutes to go, but Galway scored three late points to close out the game. McGarty was carried shoulder high off the pitch, but he felt that "the stuffing was knocked out of us that day". The Roscommon Herald reported that it was one of the best Connacht Finals ever seen; It went on "Packy, this loyal son of Leitrim, was an inspiration. Bobbing, ducking, swerving, splitting the defence with his brilliant runs, placing shrewd passes, rallying his forces, and his display will be a treasured gem in the storehouse of treasured memories. The Leitrim Observer humorously recorded "A half time tip to the Leitrim mentors went unheeded, send McGarty out for the second half without a jersey"
Peadar O Brien in the Irish Press reported- 'Oh what a wonderful hour of football glory for 15 gallant Leitrim men'. Galway were good but had no one to match the brilliance of McGarty'
The reporter Breffni in the Longford Leader 'considering he was pulled on 14 times, and his no 11 jersey in shreds he gave a lesson in sportsmanship as he never once retaliated although he received plenty of provocation. Long may he reign as King'
Journalist Jim Lydon wrote- "The wonderful display of Packy McGarty will live long in the memory of the 12,000 spectators fortunate enough to be present. I have never witnessed nor can I ever hope to witness a better individual performance than that turned in by the wonderful Leitrim player. It was indeed a fitting tribute that he should be carried off the field shoulder high at the end of a brilliant game"
1964 – J F Kennedy Memorial Games Gaelic Park New York – Leitrim beat Cavan 1-9 to 0-8 with Packy scoring 8 points.
Packy won three Irish 'Caps' when an Ireland team played the Combined Universities' in an annual event where the proceeds went to the Catholic Social Services Conference. To represent Ireland was the greatest honour the GAA could bestow on a player
Packy also has the most unusual distinction of been marked by the same player in three matches in one week.  Jas Murphy (Kerry & Munster)  marked Packy in the Railway Cup on Sunday, Jas marked Packy again on the Monday in an All Ireland v Combined Universities match and again on a Friday night in a Dublin League game between UCD & Sean McDermott's.
Packy was honoured in been selected on the Sunday Independent Team of the Century for players who never won an All-Ireland,  the Connacht Team of the Millennium and of course the Leitrim Team of the Millennium.
On a very special night in the Bush Hotel at the Leitrim team of the Millennium Dinner Leo McAlinden speaking on behalf of the team paid a heartfelt tribute to Packy McGarty "I feel compelled to mention one player. He would be what we now call a Superstar. Packy McGarty is an incredibly special person. He is exceptionally talented but is also the most modest and easiest controlled player this county has ever seen. No players has given the Administration less trouble than Packy McGarty" At this point in the proceedings 300 people stood up and gave a resounding round of applause to this man who many refer to as the 'GOD' of Leitrim football.
We should leave the last word to Jack Mahon (R.I.P.), the famous Galway player, who was McGarty's direct opponent in three Connacht finals, and with whom McGarty lined out for Connacht in the Railway Cup. His tribute is a fitting testimony to Packy, both as a player and a human being.
"It was my pleasure and at times discomfort to be Packie's direct opponent in the Connacht Finals of 1957 in Galway, 1958 in Roscommon and '59 in Sligo. He was then at the zenith of his career. He had the elasticity of a rubber ball, could turn on a sixpence, was an impeccable sportsman, kept coming at you toe to hand, toe to hand, was indomitable, irrepressible, a born footballer. '58 was his greatest hour. I remember being delighted to see the rain fall before the end, feeling I would have a fielding advantage, which I had. One incident from that game, refereed by Johnny Mulvey, is still with me. Early in the game Sean Purcell and myself sandwiched him between us, and a knowing nod between us suggested the end of the threat of McGarty that day. He bounced up from being winded to take the free, got on with the game, and played the game of his life.
I remember clearly the 1959 final in Sligo. I had been injured in a clash with Packy just before the full-time whistle, and for one reason or another did not meet him after the game. I had to drive my brother Brendan to catch the boat from Dun Laoghaire to England. Having bid goodbye to my brother who should race down the pier, almost the last to catch the boat, bag in hand but the bold Packy. A quick shake hands, no time for a chat, but I really admired this man who had to be in time for work the following morning. It was around this time that Packy was the victim of a vicious frontal charge after he had kicked the ball in a club game with Tara's. A rotten facial injury required eleven stitches and the culprit, well known in London circles, got off scot-free. A lesser mortal would have given it all up. Not Packy. This greatest of all Leitrim men had more to give to his county"
On behalf of Leitrim GAA, we extend our deepest sympathy to his wife Ella and the entire McGarty family at their very sad loss.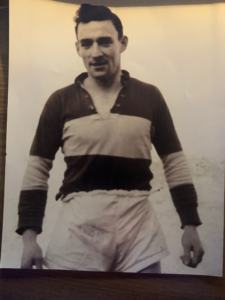 Packy McGarty RIP Leitrim GAA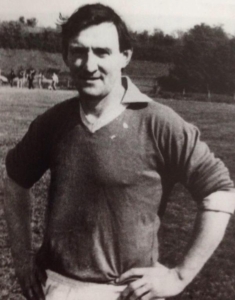 Packy McGarty RIP Mohill GAA
https://www.leitrimgaa.ie/wp-content/uploads/2021/04/WhatsApp-Image-2021-04-06-at-12.30.43.jpeg
563
750
Secretary Leitrim GAA
https://www.leitrimgaa.ie/wp-content/uploads/2017/07/cropped-Leitrim_Crest_3d_Trans_552x552-180x180.png
Secretary Leitrim GAA
2021-04-06 14:06:02
2022-12-01 19:37:25
The late Packy McGarty RIP, Leitrim GAA and Mohill GAA.